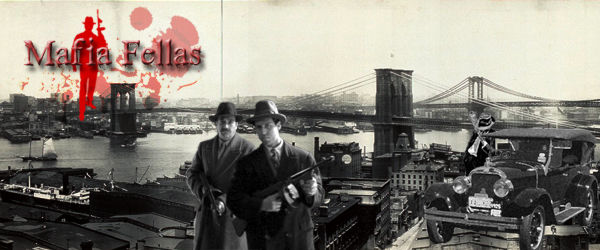 Website:
mafiafellas.com
Game Info:

MafiaFellas is FREE MMORPG browser based game. The story takes place in 1920's, when organized crime families operated on the soil of the United States.

Prohibition of alcohol was in effect. Manufacturing, transportation and sale of alcohol and alcoholic beverages were illegal activities. As demand for alcohol grew, so did the prices. People saw the opportunity to earn money by producing and smuggling alcohol.

Dive into the Mafia Fellas game and experience the thrill of being a mobster. Start as a thug doing a simple jobs for the family and build your ranks and reputation and who knows, maybe one day you'll become a family boss and lead your family against other rival families. Road to the top is not an easy task, you'll have to prove that you are loyal to your family and fellow members.

Choose your own path, earn money by producing, smuggling and selling your own goods or by doing work for another member.

Game Story:

The year is 1923 and you've just got off the ship in New York with only a few dollars in your pocket.
You've found a job in the port but you soon realize that you don't have enough money to survive.
A friend introduces you to a shady guy who offers you a job and a good pay, an offer you can't refuse. You need that money!

Game Features:

- Join one of the five crime families
- A unique development of character with 9 different job types
- 10 different weapons to use
- Fight over important territories
- Do sidejobs to earn extra money
- Play as a team and bring your family to the top
- Produce goods and sell it on the streets
- Extort , demolish and rob other family fronts
- Hijack other players goods
- Earn medals for your achievements

Statistics
All Time

Last 3 Months

Previous Month

This Month

Previous Week

This Week

Yesterday

Today


Registrations: Not tracked
Your Review
Positive Score: 77 | Reviews: 0

This game has no positive reviews!

Negative Score: 0 | Reviews: 0

This game has no negative reviews!