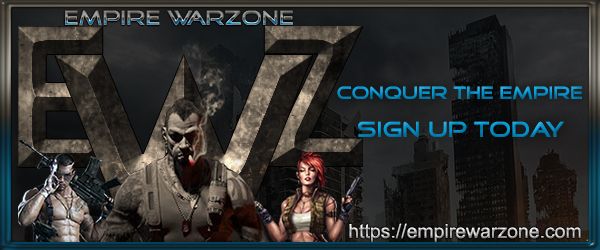 Website:
www.empirewarzone.com
Most recent player opinion:
"
https://empirewarzone.com come see for yourself this place rocks!The Radio is a Plus~
" (
see all >>
)

Warning: Use of undefined constant php - assumed 'php' (this will throw an Error in a future version of PHP) in /home/toponl/public_html/games/gallery.php on line 51

Empire Warzone is a classic mafia-themed game with a few unique features.
We are holding a referral competition with all our players for the month of March. Compete for the top 3 spots earing 100K, 50K and 25K points!! Refer 10 or more and be put in a drawing for a $50 Gift Card!
Not playing yet? Come join and start inviting all your friends! Go to the website and enter ID 2 in the referrer box and join the fun!
Come commit crimes, mug for cash, perform Missions and Special Ops to earn cash and points and experience. Compete in Warzone for status and prestige! Search the Streets for cash and points. Buy and train a pet to enhance your own stats. Join a gang, buy a house and go to School, it's all here for you to make your way! Come rise up in our ranks, if you dare!
Our Hall of Fame awaits your name! Welcome to our Empire!

Statistics
All Time

Last 3 Months

Previous Month

This Month

Previous Week

This Week

Yesterday

Today


Registrations: Not tracked
Your Review
Positive Score: 6746 | Reviews: 3

| | |
| --- | --- |
| Tishy | https://empirewarzone.com come see for yourself this place rocks!The Radio is a Plus~ |
| BUMPY | BUMPY ID 15 I enjoy this game, I love the competition.There is always something to do. Always a way to win and build. Missions Special Op's and Hourlies as well as Daily changes to win big. Oh and a weekly Warzone! Damn you can play for free and still be one of best |
| BUMPY | I've had the most fun playing Empire War Zone. Lots to do to keep you busy, competition as well as social activities. Friendly people are there to help you find your way around. I loved it from the first day. ~BUMPY |

Negative Score: 190 | Reviews: 0

This game has no negative reviews!