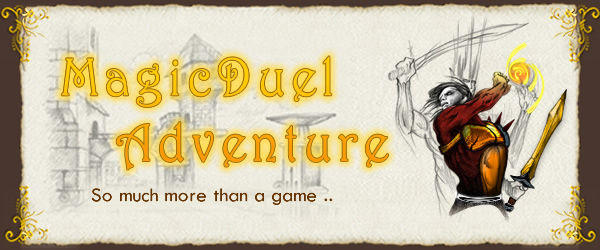 Website:
magicduel.com
Most recent player opinion:
"
Unique and original It is impossible to solve all of the secrets of this world
" (
see all >>
)

This is a really excellent game. With many features such as an addictive storyline, live chat, role play, creature fights, PVP fights, alliances, quest, collectible creatures, daily updates, forum, Live Help, and much more. It has a great community waiting for you to join them, so what are you waiting for!! Give it a TRY, I'm sure you will enjoy every moment.

Statistics
All Time

Last 3 Months

Previous Month

This Month

Previous Week

This Week

Yesterday

Today


Registrations: Not tracked
Your Review
Positive Score: 165043 | Reviews: 25

jakubhi

Posted on January 30, 2020

Unique and original It is impossible to solve all of the secrets of this world

Nava Sin Sethrius

Posted on December 15, 2017

Come. We await you in our realm of adventure, magic, and wonder. We await you all.

nadrolski

Posted on August 05, 2017

MagicDuel Adventure RRROOOCCCKKKSSS BBBIIIGGG TTTIIIMMMEEE! If you are not down with that, I got two words for 'ya : GET LOST!

nadrolski
Advance Happy, Happy 10th Birthday to you, MagicDuel Adventure! Let's Rock and roll!

Oatsy

Posted on November 09, 2014

intriguing concept game, patience is required, Role Play, Balance battle wins and loses

nadrolski
Happy 9th Birthday to MagicDuel Adventures and to all hardcore MD'ers! High Five!

the3rdshinigami

Posted on December 15, 2013

I have played it for years now on and off, although without the dedication others had, but the reason I continued to play was for the mysteries that lied within, for the questions it raised for newcomers as they first play.

nadrolski

Posted on August 18, 2013

11 people who voted negatively for magicduel inhaled bad drugs before voting.

nadrolski
MagicDuel Adventure. the game that gives spices to my real world. not only it gives life to my other me, but also gives death. why am i addicted to you, MDA? happy birthday MD!

everyone
been addicted to Magicduel for four years now and still enjoy playing everyday!

Ratbert
Awesome game! Battle, Quest by other players, and it completely free to play!

darkraptor
UNIQUE! A experience like no other, the very redefinition of the adventure game concept. Dare to Join this ever evoluting realm, find it's secrets, be part of it!

nikalagarto

Posted on September 25, 2012

It is great! The community is open-minded, helpful and interesting. The game is addictive, and there is a lot to explore. Don't be dissuaded by the first part of the game, it is worth the wait...

Master
Excellent Game ! Addictive and Unique , unlike other games out there ! EXCELLENT !!!

Spartiatis
I love this game! I play it at 5 years and cant take it from my mind :P you can try it also.


Negative Score: 12 | Reviews: 0

This game has no negative reviews!