Second Earth: Faction Wars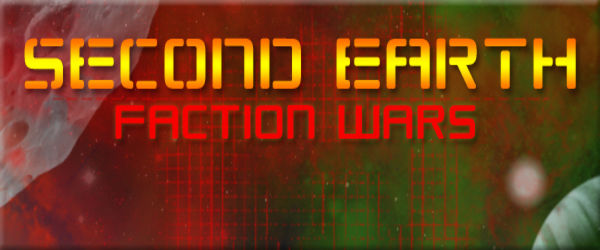 Website:
secondearthfactionwars.com
Most recent player opinion:
"
I enjoy the setting. Some of the arena functions are obviously being improved upon. Enjoy a fresh game with a new idea.
" (
see all >>
)
Welcome to the world of secondearth. In the year 3101 humanity realized that the Earth was dying, and that a new home for the human race needed to be found. All three of the Continental Unions (The Eurasians, the Eastasians, and the United Americas) sent many probes scouring the galaxy in search of new hospitable planets. In 3103 the Eastasians found just such a planet. This new planet was named EA-400. Within 3 months, all of the major Unions found out about EA-400 due to the extreme amount of espionage that perveyed society. Within 2 years, all of the Unions had a ARK-type veseel launched, all with the same destination EA-400. All three vessels had accomplished the task of landing on this far-away world and began setting up colonies in the year 3105. Immediately after landfall, a massive solar flare eminated from the new planet's star, destroying all communications equipment, and much of their life-sustaining technology. The three Unions were forced to start anew, using whatever resouces they could gather or scavange. When the Unions started exploring their new environment, they were surprised to find a race of indiginous people,the Kalaktu. The settlements gathered what resources they could and carved out their niche on the new planet. The year is 3203 and it is your chance to take part in the early days of the settlements, when faction lords openly and visciously feuded with opposing lords in an attempt to stake their claims in the new world. Choose between the Eurasians, Outlanders, Kalaktu, or UnitedAmericans in your quest for dominance. SecondEarth: Faction Wars is a free to play browser-based strategy game. All of the combat in the game is player vs. player. Some of the features include: Guilds -- Stronghold Siege -- Many upgrades / advancements -- Multiple offensive and defensive unit types -- Profile pictures -- and more..... Best of all, it is and always will be completely free to play.

Statistics
All Time

Last 3 Months

Previous Month

This Month

Previous Week

This Week

Yesterday

Today


Registrations: Not tracked
Your Review
Positive Score: 4377 | Reviews: 10

kingdomstoconquer

Posted on January 22, 2011

I enjoy the setting. Some of the arena functions are obviously being improved upon. Enjoy a fresh game with a new idea.


Posted on October 22, 2010

The halloween event that is going on is really cool. You have a great chance to win a bunch of stuff, including an exclusive background that can only be received during the event.


Posted on September 23, 2010

They just added a new visual battle system to the game. It adds a whole new level of excitement. You can now visually see you and your opponents armies clash on the field of battle. Many times, bloody casualties ensue.

This game is fun and has a wonderful community. People are always chatting and goofing around with each other. THere are a bunch of events ongoing that allow you to get some cool items. I highly recommend it.

This game is great. They are very welcoming to new players and even give new folks some great donation items for free to get them started. Give it a shot.

This is a very fun game. It can be a bit slow at the beginning but if you stick with it, you will find a deep layer of strategy and lots of great competition. All the people there are very nice and happy to help a new player. I highly recommend it.

We are running some new events during the month of May. The events are: #1 New user event, if you join the game, and then get a friend to do the same, you will both get free sapphires. #2 We will hold a drawing at the end of the month, the prizes range from a donation refund to free sapphires, see the website for details on how to enter this drawing. Come and give Factionwars a try.

Great event going on right now, you can get sapphire boxes for free with attack victories. Also, right now you get double the sapphires you normally get with any donation to the game. Keep up the good work Secondearth Devs.


Posted on February 19, 2010

This game is great fun. It really is completely free to play, as you can get all the cash shop items in the game if you're dedicated enough to do so.


Posted on February 18, 2010

This game is a bunch of fun. You can play just a bit every day and still keep up with the leaders. Another nice thing, is that you can get all the cash shop items for free in the game for a little effort, so this game really is completely free to play.


Negative Score: 24 | Reviews: 1

| | |
| --- | --- |
| mar546 | boring |