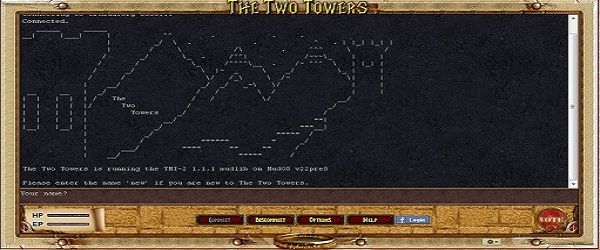 Website:
t2tmud.org
The Two Towers MUD is a free, text-based multiplayer online RPG set entirely within Tolkien's world of Middle-earth. We have extensively re-created the lands of Middle-earth in a rich text environment, from Mithlond to Mordor and the lands of Harad beyond. With over 100,000 rooms and always growing, The Two Towers is a richly developed and highly interactive world. There are hundreds of quests, with rewards great and small, for you to discover. Now playable in Flash!

The Two Towers has an active community of players from around the world who come together to play online. Players join together to create guilds, raid enemy lands, and more.

Online continuously since 1994, The Two Towers is one of the longest running multiplayer games on the internet and is maintained by a staff of hardworking volunteers who love Tolkien and multiplayer gaming.

Statistics
All Time

Last 3 Months

Previous Month

This Month

Previous Week

This Week

Yesterday

Today


Registrations: Not tracked
Your Review
Positive Score: 220 | Reviews: 0

This game has no positive reviews!

Negative Score: 1 | Reviews: 0

This game has no negative reviews!