This game was submited by an Admin. If you own this game and want to claim this account so you can edit it, please contact us.
War 2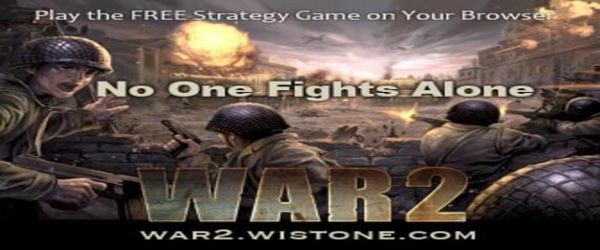 Website:
war2.wistone.com
War 2 is an online casual oriented web game that will bring players back to the war torn years of World War II. Players will play a military commander in charge of an occupied town in a war torn world seeking to survive, develop and to ultimately establish themselves as a stable and powerful force. Players will take part in urban management, manage production, research, trade and labour management. Players will also interact with other players via military or diplomatic means. The game will also feature real heroes from World War II including famous generals and will highlight their particular styles. The game uses real troops from World War II using their features and functions while creating a balanced game. War 2 is designed to be an easily accessible yet engrossing and fun to play game for all.

Statistics
All Time

Last 3 Months

Previous Month

This Month

Previous Week

This Week

Yesterday

Today


Registrations: Not tracked
Your Review
Positive Score: 20 | Reviews: 0

This game has no positive reviews!

Negative Score: 2 | Reviews: 0

This game has no negative reviews!